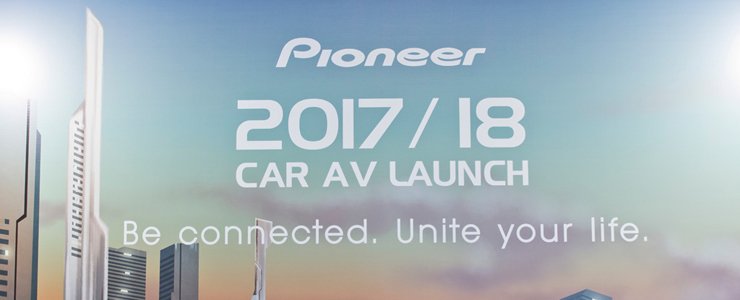 Pioneer Electronics Asia Centre, a leader in aftermarket car audio, has unveiled four new multimedia receivers in Singapore. Leading the 2017 lineup are the 1-DIN AVH-Z7050BT and 2-DIN AVH-Z5050BT, followed by the AVH-Z2050BT, and AVH-Z1050DVD.
In continuing with Pioneer's focus on enhancing user experience, the entire range offers even greater smartphone connectivity, convenient one-cable connection, and a superior audio-visual performance – making Apple CarPlay, Android Auto and other premium entertainment features accessible to every driver.
More car owners can now enjoy some of the most comprehensive smartphone connectivity options available. All Bluetooth-ready Z-Series multimedia receivers can simultaneously connect up to five Bluetooth devices for family entertainment. Additionally, users can browse their media library with upgraded Bluetooth AVRCP 1.6 capability.
Drivers can now enjoy a more seamless user experience. Connecting a smartphone to any one of the 2017 multimedia receivers is now a plug-and-play affair, as the head unit can automatically detect and retrieve the available content from the phone.
Operating the new multimedia receivers is now easier and more enjoyable, thanks to a new customisable graphical user interface. Key enhancements include easy device switching to let users switch their connected smartphones with ease, icon display customisation to deliver a more flexible and personalised screen layout, as well as colour and design customisation with 112 backlight illumination colours and seven attractive background themes.
Pioneer is upping the ante by delivering a more cinematic entertainment experience for discerning movie lovers. The plug-and-play convenience extends to video playback, thanks to new Full-HD (1080p) support for popular video file formats like MKV, as well as additional support for NTFS format, giving users the flexibility to play clips that are larger than 4GB direct from portable hard disks.
With a new and improved 24-bit true colour LCD screen, these receivers can reproduce up to 16,777,216 hues, or around 256 times better colour fidelity than most regular displays, providing richer and true-to-life visuals.
To elevate the overall sound quality of these receivers, Pioneer has made refinements 'under the hood' with technologies and expertise from its Technical Audio Devices professional audio division. This includes a newly developed circuit board, which eliminates external interference to enhance audio signal integrity. Performance is further improved by leveraging premium audiophile-grade components for maximum listening pleasure.
Clearer hands-free voice calls can now be achieved as well, via the implementation of wide-band speech support for Bluetooth-enabled models. The new Pioneer Z-Series multimedia receivers will be available in Singapore soon.